Spring Flowers
Why are your Tulips hanging limply? Which flowers can go together in a vase? We give you tips and hope to inspire you with our beautifully arranged pieces. Enjoy the beautiful spring blooms from Decorum
Tulip
The Tulip is the most familiar Dutch flower that is recognised all over the world as a typical Dutch product. Many people are already aware that Tulips come in a wide range of varieties with unique shapes, colours and lengths. But how can you make sure that your Tulips enjoy a long vase life and do not wilt? It is a good question that happily the Decorum Tulip growers can answer for you: they can tell you all about this unique flower and how best to care for it.
Let's start with the reason why Tulips wilt. The standard procedure involves the growers treating the Tulips with just a little water and transporting them in a dry state. If a Tulip is given too much water, it grows extremely fast, towering above its leaves. If a Tulip does not have any water, it stops growing.
So when you receive a bunch of Tulips, trim the ends and fill the vase with just 2 cm of fresh water before putting the Tulips in. Within an hour, the Tulips will perk up. A Tulip is able to absorb water quickly. That is why you shouldn't put more than 2 cm of water in the vase and wait before adding more until the Tulips have absorbed it all. That usually takes 2 to 3 days.
You can also combine Decorum Tulips with almost every other kind of flower.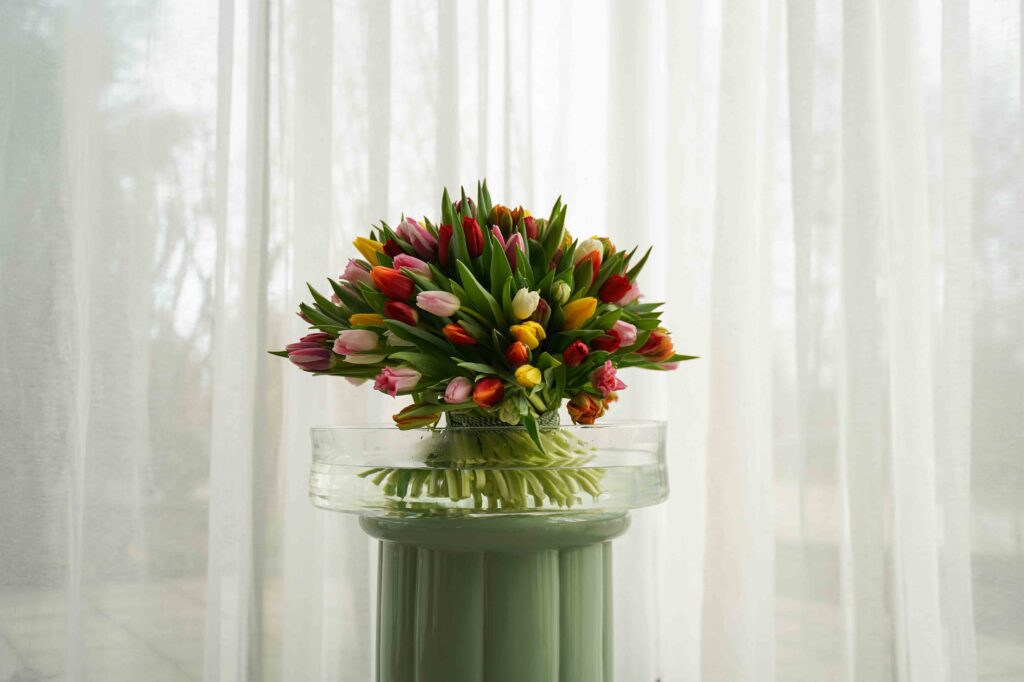 Hyacinth
With their delightful scent and bright colours, Hyacinth is the typical spring flower. Thick leaves with a rounded tip protrude from the bulb. Then from the middle a stem emerges, covered with pink, purple, white, yellow or red flowers. These buds are called nails, and there can be up to 50 nails on each stem. Every Hyacinth has its own delightful scent, some stronger than others, which is meant to lure insects. Hyacinth is one of the few flower varieties that is naturally impervious to the harmful mucilage secreted by daffodils.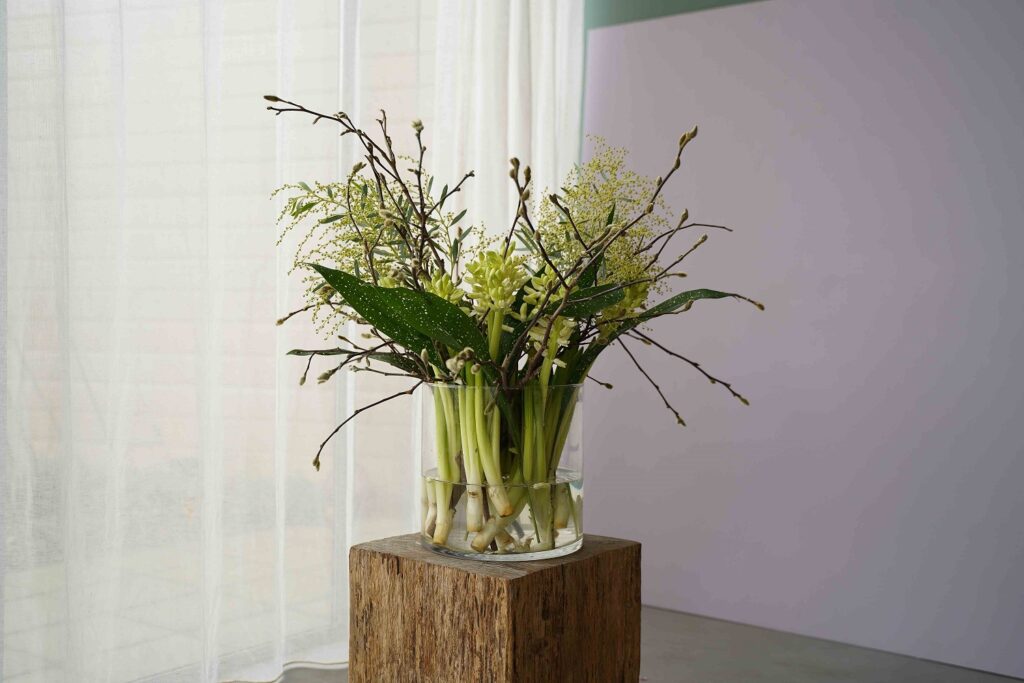 Narcissus
Smooth, green stems emerge from the bulb with narrow, light-brown buds that suddenly unfold into stunning trumpet-shaped flowers. Narcissus is a real mood maker that flowers quickly. Everything about this beautiful flower announces the coming of spring. Its most familiar colour is bright yellow, of course, but there are also lovely combinations with white, salmon pink or red. The flower is characterised by the trumpet surrounded by yellow or white petals and leans forward slightly. Along with the different colour combinations, Narcissus also has different appearances. It can be accompanied by leaves or not, have large or smaller trumpets, be highly scented or not at all.

Did you know that our Narcissus is specially treated so it can be combined with other flowers? It's ideal for giving your creativity free rein when creating a spring ornament.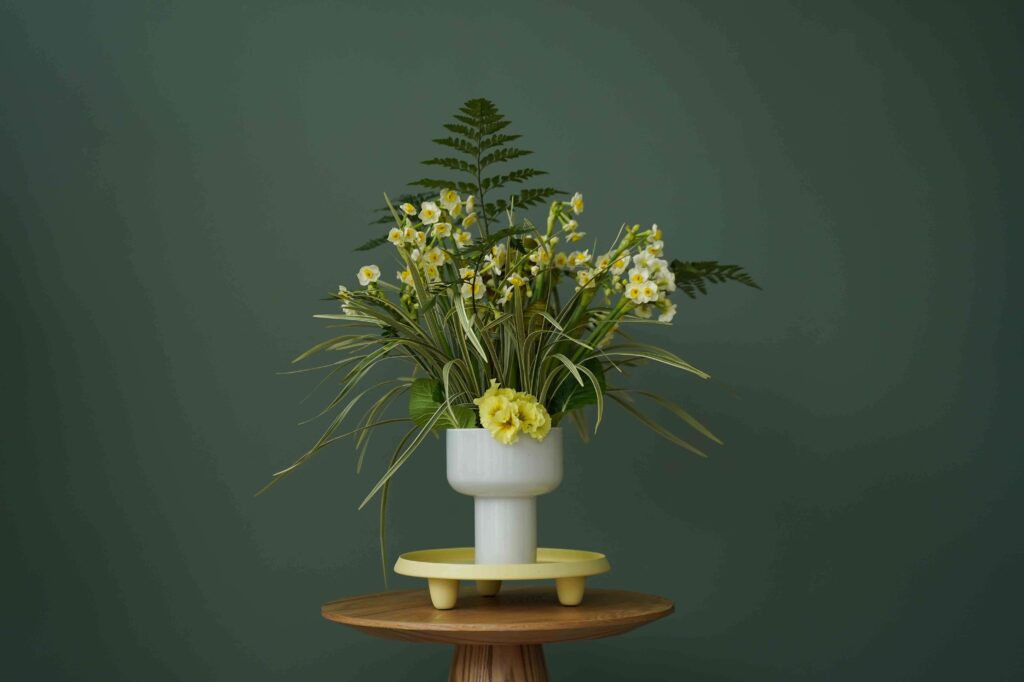 Iris
Iris is available all year round in blue and white, and outside the winter months, it is also available in many other colours. It's a real eye-catcher in a bouquet.

As soon as the iris unfolds, a stunning flower appears consisting of six petals, three standing up and three hanging down. The hanging petals are characterised by brightly coloured spots and stripes on the central section, the signal. Insects treat this like a handy landing strip.
Did you know that placing an Iris in a cool place means it will flower longer?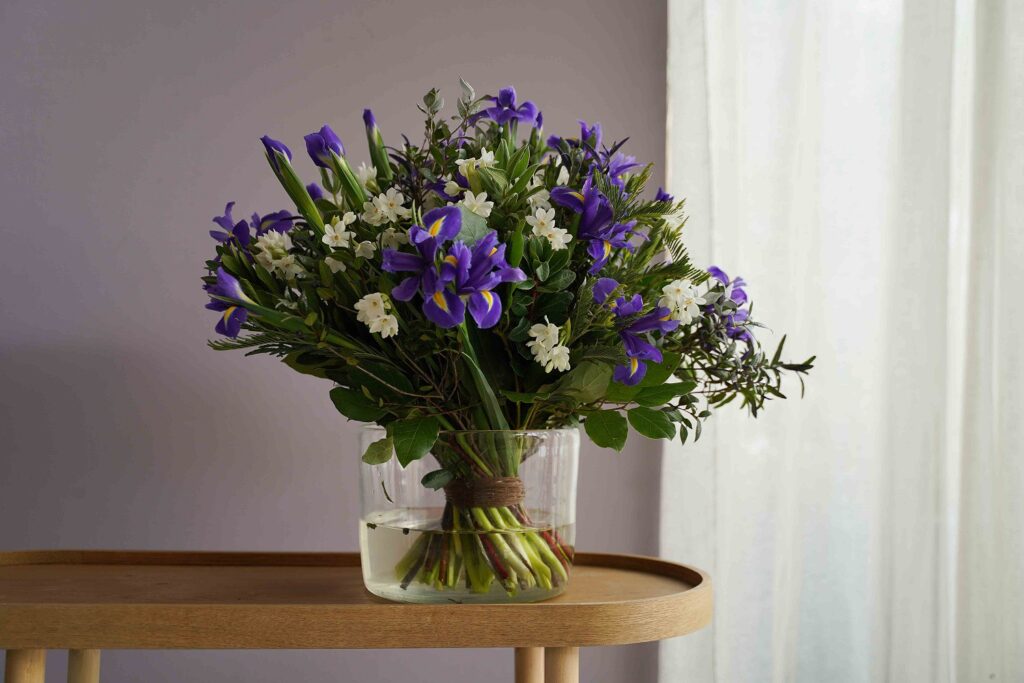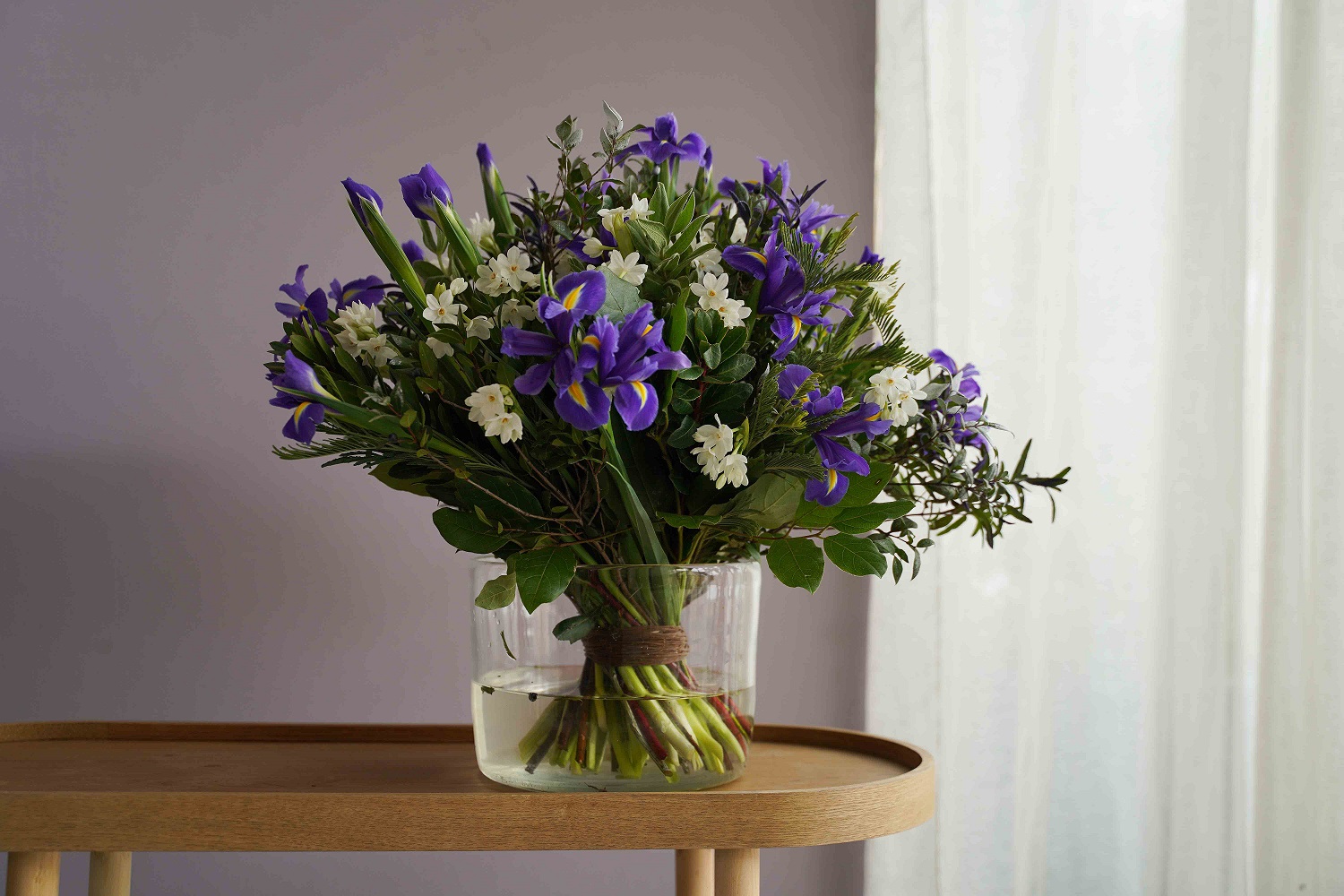 Tip!
The stems of every flower (except Hyacinth) must be cut at an angle before putting them in a vase. Always make sure that the vase is clean and fill it with water to which cut flower food has been added to enjoy them for longer.